Home
About Trigger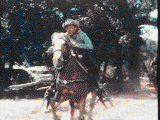 Trigger was a 15.3 hands (63 in; 1.60 m) golden palomino, made famous in American Western films with his owner, rider, cowboy Roy Rogers.
Trigger started life out as Golden Cloud (1932). His sire was a thoroughbred horse that had raced at Caliente Track, and his dam was a cold-blooded palomino. Trigger was foaled on a small ranch in the San Diego area which was partly owned by Bing Crosby.
The manager of that ranch was Roy Cloud, a breeder originally from Noblesville, Indiana. At around 3 years of age, Golden Cloud was sold to the Hudkins Stables, which rented horses to the movie industry.